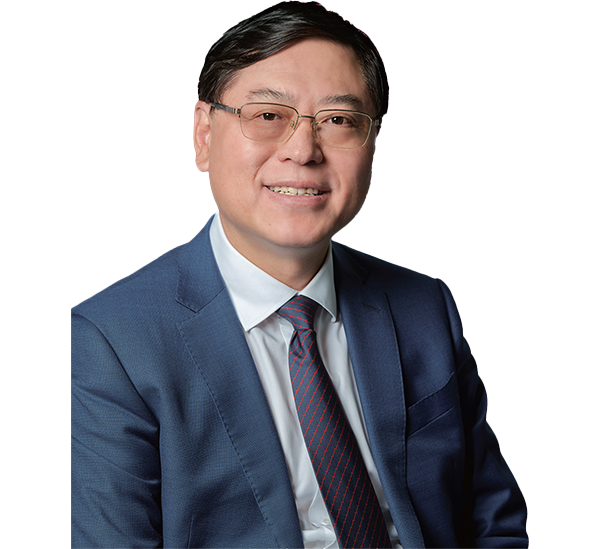 Two years ago, we embarked on a strategy of 'intelligent transformation'. A transformation of this magnitude for a 35-year-old company is no small undertaking, not least during a year where there were significant macro-economic and industry challenges. I am proud of how each of our business groups have embraced change in the last year.
Looking back at the last 12 months the world has experienced one of the most significant periods of global change and transformation we have ever seen. We are now in a world where a teenager can force global action on the climate emergency; where technology is democratizing access and opportunities in new and unthought of ways, and a where a global pandemic has changed the future of the workplace as we know it, forever.
It is against this backdrop of great global transformation - economically, socially and environmentally, that Lenovo too has transformed. Two years ago, we embarked on a strategy of 'intelligent transformation', with a clear vision to not only lead our own intelligent transformation but enable our customers to do the same - through a strategy (3S) focused on smart IoT, smart infrastructure and smart verticals and a bold vision of bringing the world 'smarter technology for all'.
A transformation of this magnitude for a 35-year-old company is no small undertaking, not least during a year where there were significant macro-economic and industry challenges. I am proud of how each of our business groups have embraced change in the last year and delivered revenue of US$50.7bn - almost the same as the record revenue of FY2018:
Business Group Overview
Intelligent Devices Group
PC & Smart Devices Group continues to lead the sector, with record PC market share for the fiscal year of 24.5%, continuing to extend our leadership as the #1 PC company in the world and with sustained industry-beating profitability. We also continue to lead in innovation - announcing the world's first foldable screen laptop, the X1 Fold, in May 2019; the first 5G connected PC in January 2020 and rethinking the role and place of smart technology in the home with the launch of the 21.5" Lenovo Smart Frame. It is this drive to challenge the status quo of what technology can do that has always been core to the Lenovo culture - always pushing the boundaries of what's gone before. Not only making technology smarter but making it something that's accessible and available to all.
The Mobile Business Group's year has focused on rightsizing for success and future growth, including resetting the portfolio to be more targeted and rebalancing the geographic spread of our business by lasering in on those markets where we see the greatest opportunity for growth. Commercially this focus has delivered five consecutive quarters of profitability, with the innovation highlight of the year being the return of the Motorola razr. This iconic innovation was reinvented and launched in November 2019 to both nostalgic razr fans as well as an entirely new generation of smartphone users inspired by the foldable form factor. More notably it marked the company's return to the premium smartphone category.
Data Center Group
Despite softer demand in the global hyperscale market, the Data Center Group has focused on key opportunities and growth areas. The business in China has grown year to year driven by both server sales and the joint venture with NetApp. Server volume and revenue of Storage, Software Defined Infrastructure, Software and Services have all seen double digit growth. Year to year growth in High Performance Computing continued as the team further extended the #1 supercomputer leadership on the 2019 Top 500 list with 173 designs around the world.
Transformation businesses
Alongside these core business groups we have invested in new and burgeoning opportunities for the future - including the launch of three new business groups as a driving force behind the transformation aligned to our 3S strategy. These small groups are set up outside of the current business group structure and are empowered with a freedom and entrepreneurial mandate that feeds our global transformation. These groups are the Data Intelligence Business Group (DIBG), the Converged Network Business Unit (CNBU) and the Commercial Internet of Things (CIoT) group. In parallel the Lenovo Capital and Incubator Group (LCIG) fortifies our intelligent transformation strategy by identifying and investing in some of today's most cutting-edge technologies that have the possibility to be the mainstream technologies of tomorrow.
Our intelligent transformation starts from within. For example, 'OMO,' or online-merge offline is a new business model that blends traditional ecommerce and physical stores so that we can provide a more efficient route to market for our customers. Magic Cube is a tool that allows call center agents to take calls from any location, something that has helped us maintain our high levels of customer service during lockdown. To develop smart manufacturing, we are proactively applying the power of Artificial Intelligence and Big Data to transform our already world-class manufacturing capabilities for the future.
Strategic Focus FY 20/21 and beyond
A key addition to our 3S strategy for the year ahead is how we use services to drive a deeper transformation and a more sustainable long-term business. In the last year our revenue from software and services reached US$3.5bn, nearly 7% of group revenue. This is fueled not only by our focus as a business, but the appetite from customers for Lenovo to be more than just a hardware player - instead a partner helping them solve their most critical business problems. We are focusing on three key areas of growth opportunity:
Attached Services

- this includes everything associated with the running of our hardware devices, eg premier support, warranty support, next day repairs etc.



Managed Services and Device-as-a-Service (DaaS)

- where our customers outsource the management of their IT hardware infrastructure to Lenovo or lease products from us



Complex Solutions

- where Lenovo plays a System Integration role, bringing a range of hardware, software and services together to solve a business problem, or provides smart solutions based on A.I. and big data technologies.
I am confident this deeper service-led transformation will lead to new competencies across the business and new profitable revenue streams for the future.
Responding to the global COVID-19 pandemic
As the world has been turned upside down by COVID-19 Lenovo teams across the world pivoted in response to the global pandemic crisis. Responding in multiple ways to support not only customers, partners and employees but also the communities where we live and work.
Maintaining manufacturing and supply - The global supply chain team worked night and day to harness the power of both our inhouse and third-party manufacturing sites around the world to adjust capacity and rebalance production. Although our primary smartphone manufacturing site in Wuhan was required to close for several months, the team rallied to move parts and supply around the world to take advantage of other facilities. This incredible flexibility and resilience of our global footprint reinforces that our global sourcing, local delivery capabilities and operational excellence are the core competencies of Lenovo - affording Lenovo a better position than most in responding to the crisis and maintaining customer orders.
Embracing a new world of work - Just as we ourselves have embraced a new world of work for our own teams and offices around the world, there is a huge opportunity ahead for us to support our customers as they embrace and build theirs. We are seeing long term growth in demand for PCs, tablets and monitors as distance learning, remote working, e-commerce, online gaming and tele-health become the new norm. At the same time, the accelerated digitalization and smartification have not only increased demand for data center and infrastructure technology, but also for services and total solutions.
Giving back in the communities we call home - Lenovo's coordinated philanthropic response has addressed COVID-19 at a global level through support for hospitals with IT and medical supplies, the donation of hardware and software to enable distance learning, funding and technical support of COVID-19 research, and employee engagement through matching gifts and volunteerism. Our support has been both big and small - focused on real need and where our own Lenovo teams are near and able to support. Our coordinated contribution from the Lenovo Foundation, business entities, and executives is nearly $15M in value.
A future built on courage, resilience and trust
At the heart of our smarter technology for all vision is the belief that in our shared digital future no one should be left behind. However, the last few months has shown the world the imperative to ensure that the COVID-19 catastrophe does not divide our world further. At times of great uncertainty new behaviors are required from every leader and organization. Firstly courage. Courage to see and embrace opportunities, to make bold decisions and to move fast to respond to the market and to our customers. Secondly resilience. To be resilient in the face of tough times ahead - using the full depth and breadth of our product portfolio and geographic spread across 180 markets around the world as our greatest asset in achieving equilibrium and stability across the business. And finally trust. Millions of customers small and large put their trust in us every day - now, more than ever, we need to be there to support them to thrive as they have always supported us.
As I look beyond the past 35 years of Lenovo's history, our focus has been on building a long-term sustainable business for the decades ahead. Ensuring a diverse and equitable workplace where everyone can thrive. Committing to the greater role and responsibility to operate as a globally sustainable business. Rethinking what it means to deliver value to all our stakeholders. And, finally, powering and empowering every Lenovo customer and the wider society through our products and technologies to thrive in our new world.

Yang Yuanqing
Chairman and Chief Executive Officer