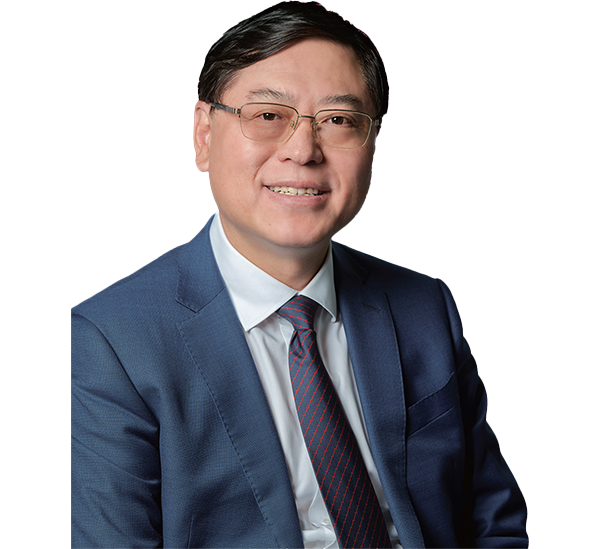 My vision for Lenovo's innovation is that we will become one of the world's leading ICT companies, a pioneer and enabler of intelligent transformation, and that we will use our technology to solve humanity's greatest challenges.
As we close the fiscal year, it's time to reflect on the incredible changes that the world has experienced over the past year. Many challenges remain to be fully addressed, such as climate change, a global pandemic, and the digital divide. New concerns have also emerged around global peace and prosperity. This is a critical time that calls on the business community to step up and operate with a larger purpose in mind, which includes building strong business and helping shape a better world at the same time.
For Lenovo, our commitment goes beyond achieving strong financial performance. We are innovating to build a smarter future for all with our technology. We are listening to customer needs not only for dependable devices but also for end-to-end, user-friendly solutions and services. And we are determined to do everything within our power to improve our planet and society by minimizing our environmental impact, promoting social equity, and ensuring ethical, responsible and transparent operations.
These areas represent our ongoing focus to build sustainable success as a global technology powerhouse and fulfill our vision of smarter technology for all.
Delivering Record Business Results
I am pleased to report that Lenovo has seized the growth opportunities driven by the accelerated trends of digitalization and intelligent transformation globally. We have responded to these opportunities with our "New IT" technology architecture of "Client-Edge-Cloud-Network-Intelligence", which is gaining more and more acceptance in our industry.
Last year, despite the geopolitical situation, the pandemic, and the global industry-wide supply shortages, Lenovo once again delivered record revenue and record profit. We've exceeded US$71 billion revenue for the first time, and our net profit grew even faster year on year. We are well on track to double our net margin in the next two years from the FY20/21 level. Lenovo was selected as a constituent stock of Hang Seng index. It's a recognition of our consistent performance in recent years and our clear strategy of transformation.
The past year was the first full year we've operated under the new structure of three core business groups to align with and execute our 3S strategy - Intelligent Devices Group (IDG), Infrastructure Solutions Group (ISG), and Solutions and Services Group (SSG). We've streamlined sales into an International Sales Organization (ISO) and a China Geo to drive selling across business groups and build the One Lenovo go-to-market channels and platforms. This structure has proven effective in achieving our strategic intent, as evidenced by the strong performance across all business.
Besides the mature business, our edge computing, cloud services, and Metaverse have now entered an incubation phase, powering new growth for the future. And we continued to leverage Lenovo Capital and Incubation Group (LCIG) for internal incubation of new business and external investment in emerging technology.
After years of investment and efforts in building a pocket-to-cloud portfolio and a global footprint, we were able to capture the right opportunities at the right time with the right capabilities. But the global Information and Communications Technology (ICT) industry may soon enter a post-pandemic, post-hypergrowth phase. That means we need to build new engines and strengthen the key pillars to continue to win in the future.
Strengthening Key Pillars for Sustainable Success
The first pillar for our long-term success is innovation, which is the most effective game changer in our industry. My vision for Lenovo's innovation is that we will become one of the world's leading ICT companies, a pioneer and enabler of intelligent transformation, and that we will use our technology to solve humanity's greatest challenges.
Therefore, we have committed to doubling our Research and Development (R&D) investment by fiscal year 23/24 from the fiscal year 20/21 level and are adding 12,000 R&D professionals globally. This investment will center around the "Client-Edge-Cloud-Network-Intelligence" architecture. We will optimize between technology with quick market returns and foundational research, and between continuous improvement and breakthrough innovation, in order to build new core technology competences and create barriers to entry for our competitors.
Our second pillar is service-led transformation. Lenovo has built a broad customer base and a strong reputation as a device provider. But nowadays customers are buying computing rather than computers, and end-to-end solutions rather than individual pieces of hardware, software, and services. This transformation is well underway and will be the catalyst for Lenovo's evolution into a diversified, comprehensive global technology solutions powerhouse with much higher margin.
Our newly established SSG has been spearheading this transformation with clear customer value propositions for each type of services. Specifically, our devices will come with more options of support services, especially premier services, to provide convenience and peace of mind for our customers. We will provide more design, consultancy, installation and maintenance support for customers to run their data centers with lower cost and higher efficiency. Even more, we've launched our "as-a-Service" offerings which turn separate steps of design, deployment and operations into a subscription-based, all-inclusive model. Finally, for our customers in vertical industries, we will build on our system integration skills and vertical know-how to develop more repeatable solutions with our own IP. I believe this is the right setup for us to pursue the tremendous growth potential in the IT services market.
And the third one is our Environmental, Social, and Governance (ESG) pillar. Lenovo has always been committed to responsible corporate citizenship. The focus on this as a consideration throughout our business will only become stronger in the future.
After exceeding our 2020 emissions reduction goal, one year ahead of target, we have now set a vision to achieve net-zero by 2050. We're working with the Science Based Target initiative to establish goals that support this vision.
We continue to promote diversity, equity, and inclusion. Lenovo was listed in Bloomberg Gender-Equality Index again in 2022. We are one of the leaders in our industry with over 36% female representation in our workforce. We won 24 best employer and best workplace awards last year, including the World's Most Admired Companies by Fortune magazine.
Our transparency and accountability have earned us strong confidence from our investors. For nine years in a row, Lenovo has won the Best Corporate Governance and ESG Awards from Hong Kong Institute of CPAs. Our supply chain was ranked by Gartner as one of the top 25 supply chains around the globe across all industries.
Going forward, we will make these three pillars even stronger to power Lenovo's sustainable success and make a real difference to our communities and stakeholders globally.
Building a Smarter, More Resilient Future
Lenovo has a solid foundation, proven track record of achievements, and clear aspirations for the future. We define success broadly – from delivering strong financial performance for our shareholders to enabling our customers' own transformation with Lenovo's technology, and from driving the innovation and growth of our entire ecosystem to building a more sustainable, more resilient, and more equitable planet.
We are steadfast in our commitments and resolute in our vision, even as the world becomes more uncertain and complex. We have a strong history of navigating good times and tough times with agility, flexibility and persistence. I am confident that through our clear focus, strong execution, and quick adaptation we will continue to build a smarter, and more resilient future.

Yuanqing Yang
Chairman and Chief Executive Officer