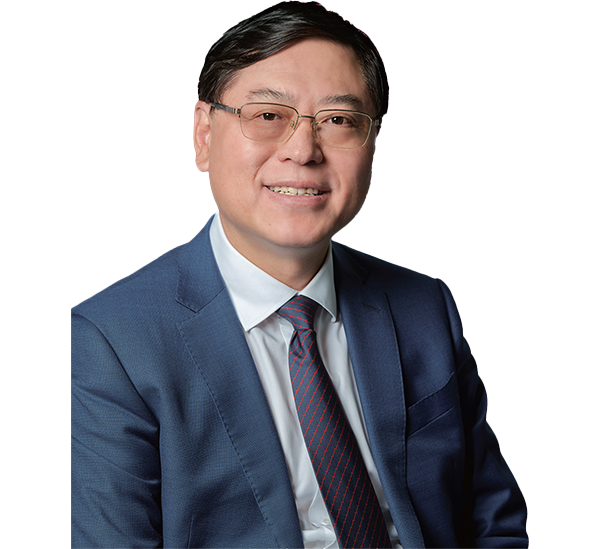 The tech sector continues to be highly competitive and trading conditions remain tough, but we have made progress across the year strategically, operationally and financially. We are confident that Lenovo's future will not only go forward, but also upward as we focus on doing our best every day for every one of customers around the world.
In fiscal year 17/18, despite a highly competitive global environment, we continued in transforming Lenovo from a single PC hardware business into a multi-business company. Our vision was and is to become the global leader in intelligent transformation. A vision built on our view that Artificial Intelligence (AI) is fundamentally transforming the way we live, work and play.
To fuel that vision we introduced our threewave strategy at the start of FY16/17. The execution of this strategy has enabled us to create a sustainable leading position in PCs and tablets; build the foundations to grow a healthy and rounded data center business; reshape our mobile business for future success and launch multiple new smart devices that go beyond our core product set. As a company we will continue innovating in PCs, smartphones and smart devices such as Smart Display and AR/VR as well as build next generation Data Center solutions.
LEADERSHIP IN PCS AND TABLETS
In PCs and tablets, our first wave, we continue to maintain industry leading profitability as we drive a strategy of sustainable leadership. We are focusing on where we know we can bring innovation and difference to our customers as well as long term returns for shareholders. For example through high-growth segments such as gaming and workstations – both of which passed the $1 billion revenue mark this past year. Our YOGA products and heartland Think portfolio remain the industry benchmark – winning numerous awards and affording us the "Best Laptop Brand" for the second year running by Laptop Magazine. Equally our unrelenting focus on innovation continues to be applauded. Not least being recognised by the international standard in design, Reddot, with 14 awards overall – 13 for product design and the pinnacle "Best of the Best" award for ThinkPad X1 Tablet. Looking ahead, we see additional opportunities in two further highgrowth segments – visuals and the thin-andlight category, as well as in upselling services. Furthermore we announced the joint venture with Fujitsu Client Computing Limited which creates a new opportunity to drive additional growth, scale and competitiveness in the PC market both in Japan and globally.
BUILDING THE GROWTH ENGINES OF THE FUTURE
In our second wave businesses we continue to make progress in line with our transformation goals. Our mobile business has faced challenges in what is a highlycompetitive market. To address these we have reshaped the business for growth and are focused on strengthening our leading position and profitability in Latin America; driving breakthrough in mature markets, while maintaining healthy growth and controlled investment in emerging markets. We have optimized the cost and expense structure, are refining the product lineup and are replicating the model we operate in markets such as Brazil, where we are number two in the smartphone space, to other markets around the world. In addition we have strengthened carrier relationships in the important US market where we also range the Moto Z broadly and continue to own the value segment with the Moto G that was cited as "the most important phone of 2017" by Android Central. More recently we have integrated our PC and smart devices group with our mobile business to create a new Intelligent Devices Group (IDG). This new structure will allow us to better optimize shared platforms like global supply chain and global service, as well as accelerate the convergence of computing and communications technologies to better connect our devices, users, applications and content.
Our data center business has achieved double-digit year-on-year revenue growth for two consecutive quarters, and has improved margin quarter-to-quarter for four quarters consecutively. We have driven this momentum by building dedicated data center sales and marketing capabilities; leading with new Artificial Intelligence solutions, embracing big data analytics and the growing Internet of Things (IoT); creating a new customercentric organizational structure; aggressively reengaging our channel partners and global system integrators with new program and solutions; and by introducing our largest data center portfolio in history with our new ThinkSystem and ThinkAgile brands. We refined our Hyperscale business model, and now have design wins with six out of the top 10 global Hyperscale providers. We have been recognized as one of the fastest ramping hyper-converged company and expanded our software defined infrastructure portfolio through partnerships with Nutanix, VMware, Microsoft and others. Lenovo is the second largest OEM supplier to the Top500 Supercomputers in the world and we remain on track to our goal of becoming the #1 Supercomputing OEM by 2020.
INVESTING IN EMERGING TECHNOLOGIES
In FY17/18 we brought many new products to market. From the multi-award-winning Star Wars Jedi Challenges AR headset, to a Smart Display that takes the idea of smart assistant to the next level by adding a visual screen. We are partnering with some of the industry's most exciting companies such as Google and Disney to bring our ambitions to life. But our emerging technologies focus goes beyond AR/VR to look at wider "as a service" models and big data platform opportunities. More broadly we continue to invest through our Lenovo Capital and Incubator Group (LCIG) into some of the most exciting technologies of tomorrow – with 85 companies invested in and eight independent spin offs.
ARTIFICIAL INTELLIGENCE DRIVING INTELLIGENT TRANSFORMATION
We see a world of technology shaped by intelligence. While the potential for AI technologies across industries is still developing, Lenovo's core technologies in data center computing, PC, mobile and smart devices will make this change happen. As a business we are bringing intelligence to everything we do, from supply chain demand forecasting to customer service solutions that learn to answer the often repeated customer queries online. In the future these AI solutions will be packaged and expanded as we bring them to market for the benefit of industries such as healthcare and retail.
IN SUMMARY
The tech sector continues to be highly competitive and trading conditions remain tough, but we have made progress across the year strategically, operationally and financially. We are confident that Lenovo's future will not only go forward, but also upward as we focus on doing our best every day for every one of customers around the world.
Thank You.

Yang Yuanqing
Chairman and Chief Executive Officer